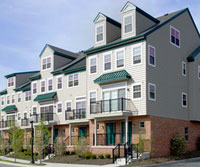 Winner of Four Pyramid Awards
including Best Townhome Under 2,000 s.f.
and the Delaware Valley Smart Growth Alliance
Community of the Year!
Environmentally Friendly
Green Street Mews has received several awards and recognitions as an Environmentally Friendly In-fill community, including:
2008 Pyramid Awards from the Homebuilders Association
of Chester and Delaware Counties for
Smart Growth Community of the Year
Best Multifamily townhome under 2000 Square feet
Best Interior Merchandizing for a Townhome in that size category
Best Use of Animated Technology

2008 Best In American Living Award Finalist for Best Suburban Smart Growth Community 
2005 Smart Growth Recognition from the Delaware Valley Smart Growth Alliance
 (click on logo below to read DVSGA endorsement)

Click here to learn more
about why Green Street Mews
is energy efficient and well-designed
to save you money and
protect the environment.