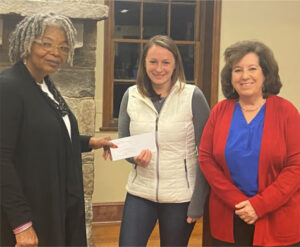 At the November 2023 Nether Providence Commissioners meeting, Sarah Peck presented a check for $25,000 to South Media Neighbors United and the Township. The funds will be earmarked for renovation of the nearby Martha Burton Park, a central gathering place for the South Media community as well as for other activities benefiting the S. Media neighborhood.
Peck thanked Nannette Whitsett and her co-leader James Mason of South Media Neighbors United and their team for collaborating with her company to help secure rezoning and land development approvals needed to create the Media Walk development. "By developing a trusting relationship between our organizations, we worked together to secure a better outcome for all stake holders," she said.
Media Walk is now successfully completed and occupied by 25 new homeowners.