Daily Local NewsJanuary 2, 2009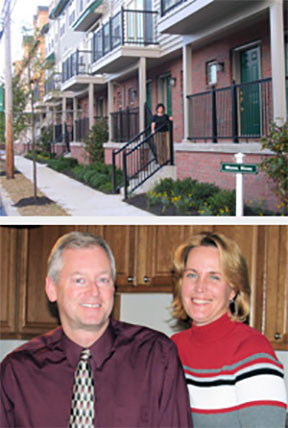 Valerie and Rob Schindewolf were starting a new chapter in their lives. Wanting a shorter commute to work and closer proximity to an elderly relative in West Chester, the couple decided to sell their spacious single-family home in suburban Lancaster and move to Chester County – ideally to a low maintenance townhome within walking distance of a town and train. Despite months of looking for the right combination of price, size, charm and parking, however, they came up short. Then, late last fall, they stumbled upon Green Street Mews in Downingtown Borough.
"When we found Green Street Mews on the internet, we were impressed with the community's "green" construction, sidewalks to nearby Main Street, and the historic looking architecture with two garage garages," says Valerie. "We knew right away that this was not a typical new townhome development. When we saw other interested buyers visiting the sales office, we knew we had to act quickly."
Not wanting to risk it, they snatched up the last remaining townhome in the 30-home community.
"Our decision was a no-brainer," Valerie says, "because we had not seen anything that had as much bang for the buck or the quality as this home."
With the Schindewolf's purchase, this unique infill townhome development sold out – in just over one year from the grand opening of the decorated model. That the intense market interest continued throughout the mortgage crisis, credit crunch, and slow economy, shows just how alive the Chester County housing market still is – for the right product with the right marketing.
Sharon Dienno, regional marketing manager for Prudential Fox and Roach Realtors, and the selling agent for the development explains: "Green Street Mews proves that the market is alive and well for eco-friendly homes that are well-located, and connected via sidewalks to amenities like parks, restaurants, shops and the train. She points to the steady, strong sales traffic throughout the marketing of the project and buyers with good credit, good jobs and money saved as evidence.
Dienno commends the developer, Sarah Peck, for thinking outside the box in obtaining special zoning to build the project and building environmentally friendly and architecturally tasteful homes that fit seamlessly into the historic neighborhood.
"Sarah Peck has shown that buyers still crave a maintenance-free lifestyle in unique, close-in, pedestrian-friendly settings and will buy no matter what the market conditions." Dienno also credits the developer's internet-oriented marketing which appealed to 30 and 30-something, first time homebuyers.
The professional community agrees with the market's assessment. The Delaware Valley Smart Growth Alliance, for example, awarded its prestigious Smart Growth recognition to Green Street Mews for its innovative and environmentally friendly concept. And last April, the Homebuilders Association of Chester and Delaware Counties awarded Green Street Mews its Smart Growth Community of the Year.
Peck is planning a sequel to Green Street Mews, also in Downingtown Borough, though on a larger scale. To be developed jointly with Southdown Homes, the community will be built on the present site of the Borough-owned Kardon Park, overlooking the existing public park and ponds which will remain. Like Green Street Mews, the homes will have two and three bedrooms and will have attached rear garages, allowing a charming and pedestrian-friendly streetscape. A number of new townhome and single-level plan styles will be offered, including some without any stairs at all, which Peck feels will attract seniors. Homes are expected to start in the mid $180,000's, although prices and details will be finalized when pre-sales start in late spring. People wanting more information can leave their contact information at 610-269-9100.
Valerie Schindewolf is so enamored with Downingtown Borough and the developer of Green Street Mews that she and her husband say they would move again to the new Kardon Park community when the time is right. "We love Downingtown's new retail and restaurant development on Lancaster Avenue and the exciting up and coming plans," she says. We most certainly see ourselves staying in Downingtown Borough and have informally taken first dibs on the best lot in the new development!